Custom Fasteners
As important as it is to create quality metal parts, they won't do any good unless you have something that holds them all together. Such is the job of fasteners. These parts are essential for keeping everything in place. Sometimes, fasteners are relatively commonplace and can be manufactured and bought in mass quantities.
Other times, custom fasteners, also known as specialty fasteners are required to keep specially-made parts in place.
At TFG USA, we handle both, helping clients discover the fasteners they need to hold their next big project together.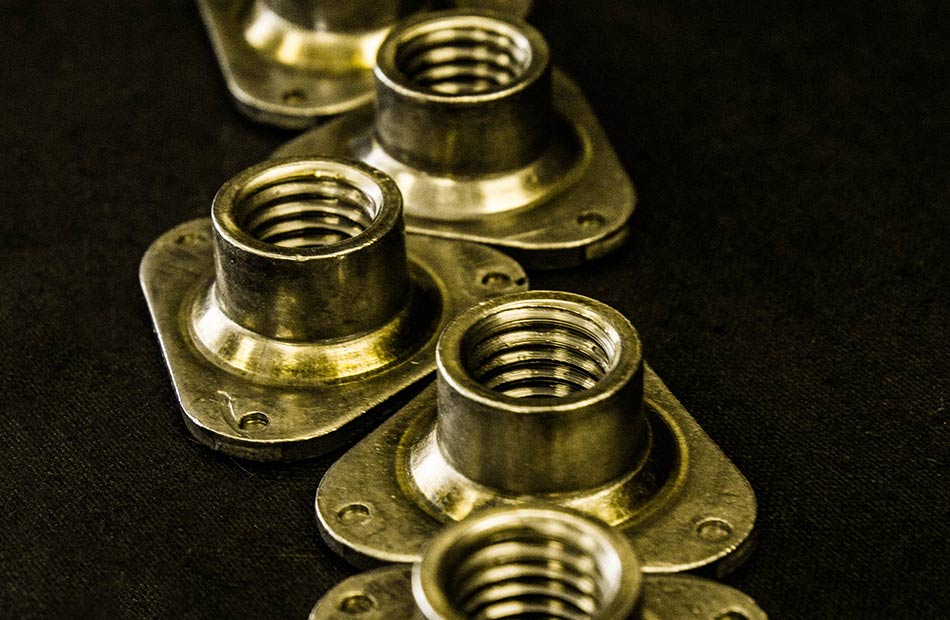 Fastener Material, Drive, Head, and Thread
To begin with, you'll want to make sure that you are choosing the right materials. One of the best things about high-quality fasteners is that they can be made from any number of different metal materials.
Among the most common types of metals and alloys to be used for fasteners include brass, bronze, copper, stainless steel, alloy steels, and titanium. Choosing the right one is critical to making sure that the fastener can withstand the heat and work holding ability of the job for which it is intended.
Just as important are the drives at the top portion (head) of the fastener. If you don't have the right type of drive in place, you risk accidentally stripping the fastener when you go to screw it on. Additionally, you need to make sure that the fastener is actually of the right size, lest it fails to fasten into place and do the job it is intended to do.
Some of the most common types of drives include:
Slotted, which have one slot line running completely across the head
Phillips, which are slotted like straight lines into crosses
Sockets, which have hexagonal sockets in their heads.
CVIP
Squares, which spread out into four even lines
Star Drives, which are star-shaped recess in the fastener with six rounded points
In addition to these basic drive types, it is also possible to create your own custom fasteners. This can be helpful for jobs that require specialized parts.
In addition to the drives, you'll want to consider the heads. These and the head and the fastener as a whole can either sit shallowly atop the part to which it has been fastened or further down and more deeply. Among the most common types of fastener heads are the hexagon socket hex head, cap, button, dome, flat, oval, and pan.
The thread of a fastener is also important for helping it fit into place. One important factor to consider is whether you need your fastener threading to be coarser or more fine.
Coarse threads result in fasteners that have fewer threads down the length of the fastener,. This means they will be less likely to strip when you screw them in.
On the other hand, fine threads have more threads down the length of the fastener. This means that they are typically stronger and harder to shake loose from the item to which they have been fastened.
One important factor when making your determination is size. You always want to make sure your fastener is fixed firmly in place, and that means making sure it is the right size for your joint, hole, or other fastening points.
Custom fasteners can, thus, be made to any size necessary. One great way to determine whether you're using the best fastener is with the aid of this book.
Male and Female Fasteners
Another thing to keep in mind when ordering fasteners is whether they are male or female parts, with the former having external parts that help them fit into place with the latter. Male fastener types include bolts, nails, pins, rivets, rods, and screws, while female fasteners include nuts, washers.
At TFG USA, we offer a wide variety of high-quality custom bolts, high strength bolts, washers, and other male and female fasteners.
A Reliable Source for Custom Fasteners
Fastener Materials can be numerous and include many metals or alloys such as stainless steel, titanium, silicon bronze, brass, copper, nickel, aluminum, and zinc-plated steel.
Common types of drives include Phillips, Slotted, Socket/Hex (internal or external), Square (internal or external), and Star/Torx (internal and external). Custom Designed drives can also be manufactured to fit unique applications.
Common head types are Flat, Dome, Button, Oval and Pan. Depending on the head, a fastener can sit shallow or deep and maybe flush or stick out of the surface it sits inside.
Custom Bolts and Screws
The most common method of forming these is through the Cold heading process. The threads on these can be formed either by cutting the threads on a lathe, cutting threads using a screw machine, or roll forming which is the process of squeezing the shaft, rolling it through a die with pressure to from the threads, this is the most consistent and accurate process of manufacturing threads.
Custom Rivets
These are also formed using the cold heading process. Rivets can be made from Steel, Aluminum and even Brass. Care must be taken in the grade of the metal chosen for the application. Too hard of a grade and the rivet will not be able to be flattened in the tool to properly attach the two parts. Too soft and the rivet may stress fracture or even pull through the hole when from the movement of the two parts.
The strength of the fasteners depends not only on the material that is used to manufacture but also on what finishing has been applied. The finish provides a protective layer on the fasteners that helps prevent corrosion. Popular finishes include black oxide, aluminum hot-dip galvanizing, zinc or chrome plating, as well as another custom plating.
Fastener Finishing
Finally, you need to think about the finishing applied to your fastening. The finishing you choose can have a profound impact on the degree to which the fastener is protected against corrosion and other types of issues. Some of the most popular types of finishing include aluminum hot-dip galvanizing, black oxide, and zinc.
We at TFG USA are proud to stand as the premier custom fastener manufacturer in the state of Michigan. When you place a call to us regarding standard or custom fasteners or any metal fabrication services, we will take you through every step of the process, bringing you up-to-date on the latest advances in fastener production and making recommendations as to which options we think are best suited to your particular project.
The best fasteners bring everything together, and that's what we do in our work with clients every day. If you're interested in getting a quote for custom fasteners contact us today.
Contact Us
Talk To An Expert
Let us be your partner in supply chain management
* denotes required field.
* indicates required fields
Thank you for contacting us. We'll be in-touch with you shortly.
There was an issue with your submission, please try again later.